Name: MARTIN MA
Tel: +86-13603113263
E-mail: info@metalconveybelt.com
Add: ZHONGSHAN ROAD 304, SHIJIAZHUANG, HEBEI, CHINA
WeChat: +8613603113263

Compound Balanced Weave Belt also called cordweave conveyor belt, consists of left and right spiral with a crimped or straight rod connecting to make a balanced weave. The very small hole sizes and well-guranteed smooth running, so these belts are used in carrying very small and heave goods, such as nuts, biscuits, bolts, screws, nails etc.
Specifications:
l Material: stainless steel wire or high carbon steel wire
l Pitch of spiral wires: 6mm to 20mm.
l Pitch of cross rods: 6mm to 20mm.
l Wire diameter: 1.2 mm, 1.4 mm, 1.5 mm, 1.6 mm, 1.8 mm, 2 mm, 2.5 mm, 3 mm.
l Belt width: 200 mm to 3,000 mm.
l Diameter of cross wire: 0.9 mm to 2.6 mm.
l Cross rod number per pitch: 3, 4, 5 or 6 as your request.
l Temperature range: -50 °C to 1,150 °C.

Features:
l High resistance against acid, alkaline, chemical, abrasion and corrosion.
l Capable to work regardless of high temperatures.
l Smooth conveying surface minimize marks and provide easy accurate conveying.
l Long service life.

Applications:
l Biscuits, tortillas, cookies and crackers baking
l Heat treating of small products.
l Hardening, tempering, quenching.
l Cleaning, drying, cooking, freezing and salting.
l Glass works, electrotechnical industry.
l Serving as pasteurizing belt, furnace belts, etc.

The compound balanced weave conveyor belt is made of stainless steel and high carbon steel, they all have excellent high temperature resistance performance and high tensile strength. All these can ensure the compound weave conveyor belt be a strong, durable and high lifespan products.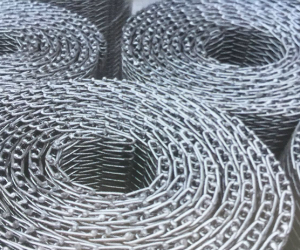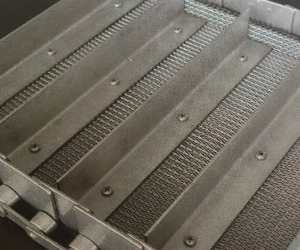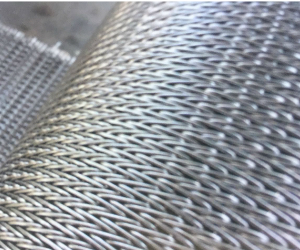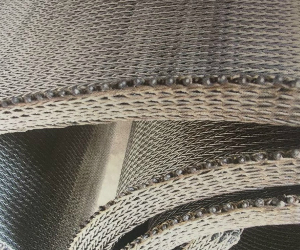 Total: 1
Page: 1 / 1
First
←Previous
Next→
End